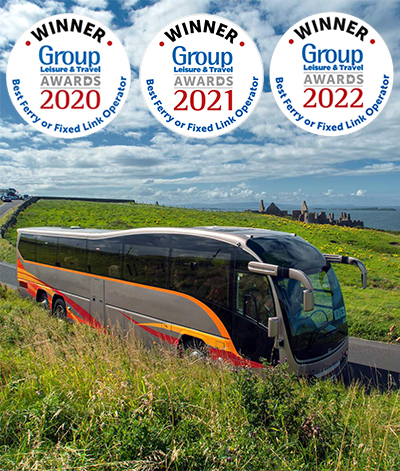 Tour and Coach Operators planning to take a coach across the Irish Sea, with up to 6 sailings daily between Holyhead to Dublin and Pembroke to Rosslare routes, you and your group can choose the perfect crossing time to suit, with journey times from Holyhead to Dublin as little as 2 hours on Dublin Swift, 3 hours 15 minutes cruise ferries Pembroke to Rosslare just under 4 hours meaning you can get connected directly to your destination in Ireland.
Coach drivers - We know how important it is to keep coach drivers rested and refreshed as they drive from A to B, that's why we try to make our crossings as relaxing and enjoyable as possible for drivers. All coach drivers can enjoy a free meal onboard all our ferries and take the time to rest and relax in our onboard accommodation or lounge areas.
Call us on 0151 242 1615 or send an email to groups@irishferries.co.uk for more information or to request a quote.
Call our group experts on:
0151 242 1615
Mon - Fri 8am - 7pm, Sat 8am - 4pm

Request a call back
Our groups specialist will call you back at your preferred time. Our call back service is available for a prompt response during Mon - Fri 9.00am - 5.00 pm.
Alternatively you can call us on 0151 242 1615 email us at groups@irishferries.co.uk