Mobile Phones / Data Roaming
It is possible to use your mobile phone while at sea, to make calls, send texts and use data.
While close to land, you phone will connect to a terrestrial mobile network, and EU roaming rules apply. The EU binding price cap does not apply if you use your mobile phone onboard via the ferry's satellite connection, provided by Telenor Maritime.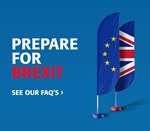 Brexit: Governments are working with mobile operators to prevent the reintroduction of roaming charges after Brexit for people travelling to the UK, including Northern Ireland, in relation to data roaming while connected to a terrestrial mobile network. This is not relevant for data roaming while at sea.
Please remember the following:
This satellite service is more expensive than your normal tariff.
Irish Ferries / Telenor Maritime do not set the tariffs.
Your own mobile operator sets the rates and is obliged to advise you of these by text message, when your phone switches to the onboard satellite network.
Connection over a satellite network is not a terrestrial network and is not covered by the EU regulations on data roaming introduced in June 2017.
Passengers from the USA, Canada and other countries may have to contact their home operator to activate the satellite service.
Further clarification on the EU rules around data roaming can be found here: https://ec.europa.eu/digital-single-market/en/faq/question-and-answers-roaming
If you are concerned over data roaming charges, please SWITCH OFF your mobile data and use the onboard WiFi instead.