Passports and Identification
Ireland / Britain routes:
Irish Ferries recommends all passengers bring a passport with them. Irish and British citizens do not strictly require a passport to travel between the two countries, but some form of (photo) identification is however required.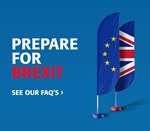 Brexit: If the UK leaves the EU with no deal, the Common Travel Area (CTA) arrangements are protected, and our current advice continues to apply.
Please note that all other nationalities (except Irish or British citizens) require a passport. They should also check with their respective embassies before travelling as they may need a visa.
Passengers who arrive at our ports without current valid documentation may not be allowed to enter either Ireland or Britain. Useful means of identification when travelling on these routes include:
Valid passport
Photographic Driving License
International Student Card
Government issued photographic ID cards
Health insurance/social security photographic ID cards
Photographic bus/train pass
Place of work photographic ID
Birth certificates (for under 18's with no photo ID)
Ireland / France routes
It is compulsory for all passengers (including babies) to have their own valid passport or officially recognised European Union I.D. card when travelling to and from Ireland or France. In some cases, a visa may also be required. If you are driving a vehicle you will also need a valid driving licence.
In the event of the UK leaving the EU with no deal, holders of UK passports travelling to France should note the following:
On the day you travel, you'll need your passport to both:
have at least 6 months left
be less than 10 years old (even if it has 6 months or more left)
It is responsibility of each passenger, parent, guardian or group leader to ensure that the documentation is valid and readily available for inspection at check-in. Irish Ferries does not accept any liability in this regard. The onus is on the passenger to ensure that the documentation is correct.
Non-EU nationals should check with the French Embassy or with the Irish Embassy before travelling as they may need a visa as well as a passport. A visa can take several weeks to obtain so please make the necessary arrangements well ahead of your travel date.
Passengers who turn up at our ports without a valid passport or an officially recognised European Union ID card (and a visa if required) will not be allowed to travel and / or enter either France or Ireland.
Pre-departure boarding of an Irish Ferries vessel is conditional on the passenger(s) being in possession of valid documentation to comply with the immigration laws of the country of destination. This is the personal responsibility of the passenger. Irish Ferries shall also be entitled to recover from the passenger(s) all fines and/or other costs incurred on it by reason of the passenger's failure to produce immigration documentation satisfactory to the relevant authorities.
Drivers of vehicles must carry and be able to produce a valid driving licence. Failure to do so may prevent entry into Ireland or France.
For more specific information see:
Irish Department of Foreign Affairs: www.dfa.ie
British Embassy in Ireland: https://www.gov.uk/world/organisations/british-embassy-dublin
French Embassy in Ireland: https://ie.ambafrance.org/
Irish Embassy in France: https://www.dfa.ie/irish-embassy/france/