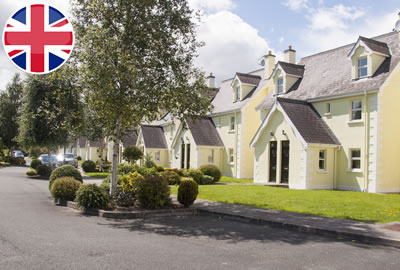 Family Holidays in Ireland this Easter: save 10%
14 Feb 2018
Irish Ferries Holidays has a host of hand-picked holiday cottages and hotels that can be packaged up with return self-drive ferry crossings for a great-value inclusive holiday – and if booked by 28 February there's a saving of 10% on normal prices!
Ireland's sunny south-east corner is easy to reach by ferry into either Dublin or Rosslare: a three to four-hour crossing is the perfect length for children to enjoy the cruise ferry's entertainment centre, watch a film in the on-board cinema or take a (supervised) walk on deck to spot other ships.
And if booked by 28 February, a week between 29 March and 15 April costs as little as £547 for a family of five, saving 10% – and that's including ferry travel! That's for seven nights at Aughrim Holiday Village in County Wicklow, where a cluster of cottages is perfectly placed for discovering Ireland's Ancient East.
The attractive three-storey holiday homes sit in landscaped grounds a short walk from Aughrim village, where there's a shop and pub, plus a warm welcome at the bar and restaurant within the Lawless Hotel. All houses offer modern open-play living spaces and three ensuite bedrooms (double, twin, single) to sleep a family of up to five.
Aughrim is a great base from which to visit family-friendly attractions with Easter activities such as Greenan Maze, Kia Ora Mini Farm and Wicklow Gaol. The beautiful beach at Brittas Bay is half an hour's drive, and another beautiful spot is ancient Glendalough, once a monastic settlement beside a beautiful lake.
08717 300 400 www.irishferries.com
Images in this article