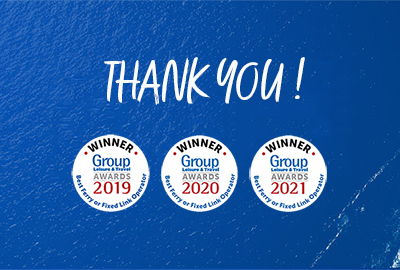 Third time's a charm: Irish Ferries secures third consecutive award win at the UK Group Leisure and Travel Awards 2021
29 Oct 2021
Third time's a charm: Leading ferry operator secures third consecutive award win in crucial sector

Isle of Inishmore from Irish Ferries – Dover to Calais 2021
Ireland's market-leading ferry operator, Irish Ferries, has been awarded the title of 'Best Ferry or Fixed Linked Operator' for the third consecutive year at the UK Group Leisure and Travel Awards 2021 – a momentous achievement following a challenging year for global travel.
The annual awards ceremony recognises the very best providers, attractions and destinations for groups, as voted for by readers of Group Leisure & Travel. This year's event took place virtually, and was hosted by British presenter and actress, Julie Peasgood.
Whilst traditionally known for its Irish Sea routes between Holyhead – Dublin and Pembroke – Rosslare, Irish Ferries recently extended their network to include Dover – Calais. Launching this year on 29 June, the Dover – Calais route, serviced by the trusted 'Isle of Inishmore', brings even more choice for customers travelling across the channel. Frequency on this route is soon to be increased with the introduction of a second vessel in the coming months.
Irish Ferries encourages customers and group partners to "Sea Travel Differently" – whether for group tours, business trips, or planning the holiday of a lifetime. The company prides itself on providing high quality hospitality and service, exceptional on-board amenities, first-class facilities for coach drivers, great value sailings, and has a dedicated groups support team and manager to oversee enquiries via email and phone.
Marie McCarthy, Passenger Sales Manager UK & Ireland, says "Irish Ferries is proud to have been awarded this title for the third year running, particularly as this succeeds the launch of our new Dover – Calais route, connecting this critical market now to both Europe as well as Ireland.
"Group travel is a very important market for us, for which, over the years, we have built our reputation as a specialist. This award formally recognises our continued efforts to provide our groups customers with a wonderful experience on a first-class fleet, with Irish hospitality at the centre of our offering.
"Group Leisure & Travel has a loyal readership which values the publication's preferred providers and we will continue to work closely with them to ensure our standard of service remains high. Thank you to all readers who voted for us – we cannot thank you enough!"