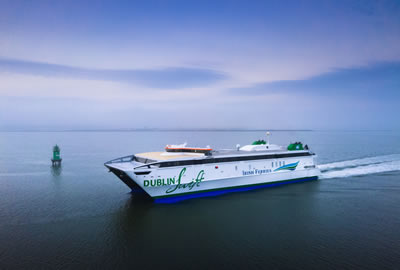 Irish Ferries brings New Dublin Swift fast craft into service on Dublin - Holyhead route
27 Apr 2018
Irish Ferries has significantly improved its fast ferry offering on the Dublin – Holyhead route with the introduction of the recently upgraded and larger, high speed craft 'Dublin Swift' which entered service today on the route following a full internal refurbishment. It replaces the 'Jonathan Swift' which has been in service since 1999.

This new addition to the Irish Ferries fleet - which is now the largest fast ferry crossing the Irish Sea - will operate at a cruising speed of 35 knots to the same frequency of twice daily return sailings as the vessel it is replacing.

The new Dublin Swift has greater car (220) and passenger (820) carrying capacity and offers a completely redesigned interior and a significantly upgraded level of passenger accommodation.

Configured somewhat differently on the inside, the passenger accommodation area is contained throughout a single deck design rather than the double deck layout familiar to passengers previously.

With its introduction, Irish Ferries has taken the opportunity to upgrade the range and style of its food and entertainment offerings. With completely redesigned menus, using the very best Irish sourced ingredients from approved and traditional suppliers, there are several different contemporary dining options to choose from.

Onboard facilities include a dedicated TV Snug, cafeteria, self-service restaurant and games area. Passengers will be spoilt for choice with spacious seating accommodation in the standard cabin, or plush reclining seats with views to sea, in-seat recharging points and complementary refreshments in the Club Class Lounge at the very front of the ship. Free Wi-Fi is offered throughout.

The new high-speed, Dublin Swift was built by Austal Ships to the same twin-hulled, catamaran design as its predecessor in the same shipyard in Freemantle, Western Australia.


Image in this article: