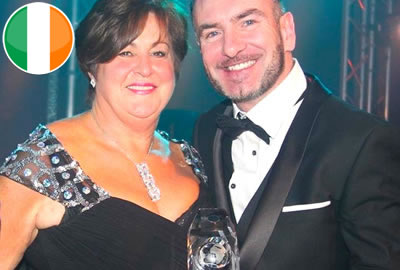 Irish Ferries celebrates 'Best Ferry' title
29 Jan 2018
Irish Ferries' reasons to celebrate continue after the Company was voted Ireland's 'Best Ferry Company' for the 8th year in succession at the 2018 Irish Travel Industry Awards.

Their latest success brings to three, the number of 'Best Ferry' titles currently held by the Company, having also been awarded the top honour at the 2017 Irish Travel Trade News Awards and, more recently, voted 'Ireland's Favourite Cruise/Ferry Experience' in the Irish Independent's 2018 Reader Travel Awards.

Accepting the accolade, Irish Ferries head of passenger sales Dermot Merrigan thanked Irish travel agents for their continued support, adding: "It is an exciting time at Irish Ferries, as we strive to improve the standard and quality of both our service and our fleet, to that which our customers have come to expect.

"We have invested €315m in two new vessels designed for our operations on the Irish Sea – the 54,985 tonne W.B Yeats, due to enter year-round service in July and a 67,300 tonne vessel scheduled for delivery before Mid-2020, set to be the largest cruise ferry in the world in terms of vehicle capacity".
Photo caption: Irish Ferries Marie McCarthy and Dermot Merrigan pictured with the 'Best Ferry Company' award at the 2018 Irish Travel Industry Awards ceremony held in Dublin recently.

Ends
Images in this article