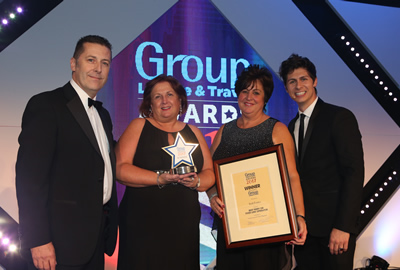 Irish Ferries is 'Best Ferry or Fixed Link Operator' for Coach and Group Travel for a second year running...
13 Oct 2017
Irish Ferries has once again been voted 'Best Ferry or Fixed Link Operator' at the Group Leisure & Travel Awards 2017 held in Birmingham last night.
Speaking at the ceremony, Marie McCarthy, Irish Ferries' dedicated Coach and Groups Manager, said: "We are delighted to have won this award for a second year running and would like to thank Group Leisure readers who voted for us, we are all genuinely thrilled.
The ferry company's dedicated Groups department provides support to thousands of group organisers every year, both during and after the planning process for trips to Ireland, whether the group is heading out to the Wild Atlantic Way, exploring Ireland's Ancient East or simply heading to everyone's favourite Irish city – Dublin!
Marie McCarthy, Irish Ferries' dedicated Coach and Groups Manager, is well-known across the travel industry and on collecting the award said, "Everyone at Irish Ferries is so thrilled with our 'Best Ferry Operator' award. We constantly pride and measure ourselves on the quality of our fleet and the high levels of service offered by all staff – both in our offices and on board our ships – and we are so grateful to have this recognised by all the Group Leisure readers who voted for us. Many, many thanks from all of us to all of you."
"Irish Ferries' popularity with groups is based on our reliability and value, as well as the first class facilities offered to coach drivers, the support given to elderly and less mobile passengers and of course, extra services such as real-time sailing updates via our mobile-friendly website and ship-wide Wi-Fi."

She added, "This is a very exciting time for Irish Ferries as we're currently expecting delivery of a brand new ship next year at a cost of €144 million. In terms of the space and accommodation on board, the new ship will be the largest cruise ferry on the Irish Sea, will without doubt raise ferry travel to a new level of luxury and I just know our group passengers are going to absolutely love it!"
When the new ferry comes into service in 2018, it will accommodate 1,885 passengers and crew. Spread over four decks, passenger accommodation will consist of 440 cabins, amongst them luxury suites with views out to sea from their own private balconies, as well as a choice of deluxe and standard class accommodation.
Described as being 'truly cruise class', on-board facilities will include a choice of bars and lounge space, á la carte and self-service restaurants, cinemas, a shopping mall and an exclusive Club Class lounge.
www.irishferries.com
Group Reservations: 0151 242 1615