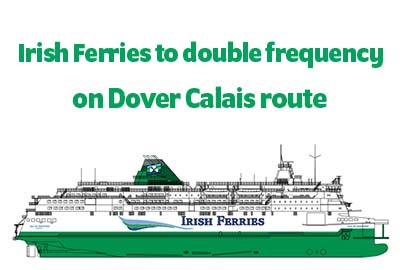 Irish Ferries to double frequency on Dover Calais route with second ship
04 nov 2021
Irish Ferries is pleased to announce the addition of the ro-ro cruise ferry ISLE OF INNISFREE to its Dover to Calais route. The ship is expected to enter service in the first week of December 2021.
ISLE OF INNISFREE was built in 1992 by the Boelwerf shipyard in Belgium and originally delivered as PRINS FILIP, she has spent most of her life on the short shipping straits between England and France. The ISLE OF INNISFREE has the capacity to carry up to 1,140 passengers, 83 freight vehicles or 600 cars. The ship offers a host of quality facilities for freight drivers/passengers such as a self-service restaurant, café/bar, Club Class lounge, onboard duty-free shop, children's play area and spacious outdoor decks.
Andrew Sheen, Irish Ferries Managing Director, said: "We are delighted be able to add a second ship to our Dover / Calais route, with the ship doubling our frequency with a departure every 2 ½ hours rather than the current 5 hours between sailings. The Ship underlines our commitment to this route and facilitates trade for both exporters and importers as well as ensuring capacity for essential passenger movements and greater choice for tourism".

About Irish Ferries
Irish Ferries is the market leading ferry operator in Ireland, serving routes between Britain (Holyhead to Dublin, and Pembroke to Rosslare) and Ireland, Ireland and France (Dublin to Cherbourg), and Britain and France (Dover to Calais).
On the Irish Sea route, Irish Ferries operates up to 16 sailings a day, with a fleet of modern cruise and fast ferries, including the famous Ulysses, Dublin Swift, the only fast craft on the Irish Sea, whilst the newly built award-winning W.B. Yeats serves the Ireland to France route.
Irish Ferries launched its Dover to Calais service in June 2021, with the transfer of the Isle of Inishmore to the route, where she operates up to 10 sailings a day.
Irish Ferries is a division of leading Irish maritime transport group Irish Continental Group plc and carried over 1.54m passengers and 401,000 cars on up to 16 daily sailings between Ireland, Britain and France in 2019.
For further press information, please contact:
Nuala Buttner, Q4PR
T: +353 1 475 1444
E: nuala@q4pr.ie
Natalie Garland | Charlotte Wright | James Brooke
Rooster PR
T: +44 (0)20 3440 8930
E: IrishFerries@rooster.co.uk