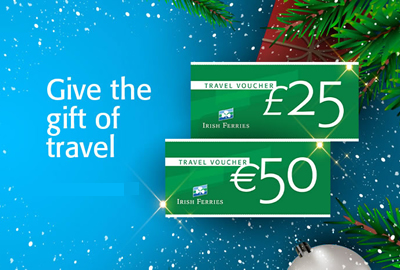 Christmas Travel Gift: Irish Ferries Vouchers
20 Nov 2019
Regular travellers – perhaps with family or friends in Ireland – will be happy to see their Christmas stocking stuffed with Irish Ferries vouchers.
Booked easily online and delivered by email, this is one Christmas gift that doesn't rely on couriers or last-posting-dates.
2020 sailing schedules for both Irish Ferries routes - Holyhead to Dublin and Pembroke to Rosslare - are now open for booking.
Fares start at £93 one-way for a car and driver.
Vouchers are available for any amount between £5 and £400.
The giver can enter a festive message that is included with the voucher.
A printable voucher may be sent directly to the recipient's inbox OR to the giver's email address.
The voucher is valid for one calendar year from the date of purchase, and on ANY Irish Ferries Cruise Ferry or Dublin Swift fastcraft crossing.
The value of the voucher is assigned to the email address provided for the recipient, which will need to match the email address for the actual travel booking.
Find out more Buy Travel Voucher Now
Irish Ferries, 08717 300 400, www.irishferries.com
Calls cost 13p per minute plus network extras