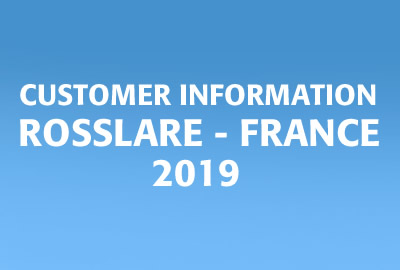 Information: ROSSLARE – FRANCE – 2019
18/12/2018 12:00
Irish Ferries wish to inform their customers that they are unlikely to operate a service between Rosslare and France in 2019. We continue to keep this situation under review.
A majority of our customers have a clear preference for the more central location and easy access of Dublin. Our new W.B. Yeats ship will operate from Dublin to Cherbourg, with 20% greater passenger capacity up to 4 days per week and is now available for booking on Irishferries.com.
Irish Ferries souhaite informer ses clients qu'il est peu probable qu'ils exploitent un service entre la France et Rosslare en 2019. Nous continuons de suivre de près cette situation.
Notre nouveau navire le W.B. Yeats assurera la ligne Cherbourg - Dublin, avec une capacité de passagers accrue de 20%, jusqu'à 4 jours par semaine et est désormais disponible à la réservation sur irishferries.fr.