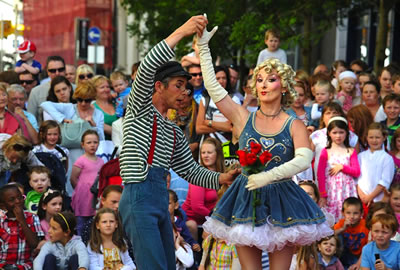 Spraoi - Ireland's biggest street festival is 25 years old!
26 Jul 2017
Head to Waterford in Ireland for the 25th annual Spraoi International Street Arts Festival, proudly sponsored by Irish Ferries.
Pronounced 'spree', the Irish word Spraoi can be translated as 'fun' or 'celebration'.
It's a word that perfectly describes this joyous celebration of music, movement, colour and spectacle at dozens of venues on Friday, Saturday and Sunday 4, 5 and 6 August 2017.
All events are free, and the medieval streets of Ireland's oldest city set beside the River Suir are a perfect backdrop for the event.
Waterford is within 90 minutes' drive of Irish Ferries' port of Rosslare: the Isle of Inishmore sails in twice a day from Pembroke, making Spraoi perfect for a long weekend break.
Spraoi attracts more than 30,000 visitors for three days of street entertainment and festivities, finishing on Sunday night with a carnival through the city centre and fireworks over the river.
Ferry fares for two adults travelling in their own car start at £278 return.
Irish Ferries Holidays can also book selected hotels and B&Bs in the area to create great-value self-drive packages.
08717 300 400, www.irishferries.com
Calls cost 13p per minute plus network extras