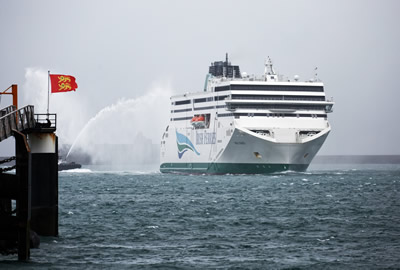 W.B. Yeats Cruise-Ferry embarks on its maiden voyage to France
CHERBOURG PORT GOES GREEN TO MARK ST. PATRICK'S WEEKEND
The W.B. Yeats cruise-ferry today arrived in Cherbourg on Friday March 15th, on its maiden voyage to France from Dublin. The sailing, the first of up to four departures per week from France to Dublin, marks the beginning of a whole new era of sea travel. To celebrate the maiden crossing and to mark the St. Patrick's Day weekend, Cherbourg Port was lit-up in the emerald green of Ireland, much to the delight of passengers and crew.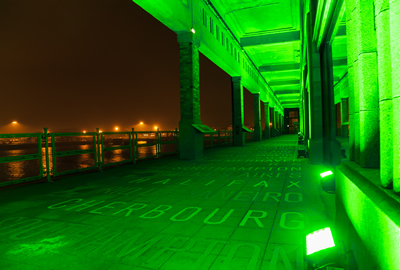 Marking the W.B. Yeats maiden voyage from Cherbourg, Nora Costello, Consumer Marketing & Sales Director for Irish Ferries said, "The W.B. Yeats is a game changer for cruise-ferry travel between France and Ireland. Providing on-board cinematic entertainment, as well as comfort and space for a more tranquil crossing, the W.B. Yeats is the embodiment of a holiday experience that begins the moment passengers step on-board. With a capacity for 165 trucks and 1,800 passengers the ship will help boost commercial trade and substantially increase the number of French and Irish that choose to holiday in both countries."
Speaking about the importance of the route for both tourism and trade, Herve Morin, President of Ports de Normandie, "With bilateral trade between France and Ireland accounting for almost €20 billion and with French people taking over 500,000 trips to Ireland annually, the Cherbourg to Dublin crossing plays an immensely important role in supporting tourism and trade links between both nations. Ports de Normandie is delighted to celebrate the maiden voyage of the W.B. Yeats from Cherbourg, knowing that it will further strengthen the long and enduring ties of friendship, family, and culture between France and Ireland."
Measuring 195m in length and capable of transporting 300 cars and 165 trucks, the W.B. Yeats provides superior comfort to its 1,800 passengers. Departing from Cherbourg port, the relaxed sailing will take approximately 18 hours, with guests invited to enjoy the luxury of space, wonderful sea views, free WiFi, a choice of cinema screen movies and shopping with bestselling brands, or to simply to unwind in the many bars and restaurants on-board. Setting sail at 4pm on the days of departure, passengers will arrive in Dublin at 10.15am, relaxed and ready for adventure.
Dynamic in design, with class-leading technologies and style defining sophistication, this week the W.B. Yeats won two prestigious industry awards, taking home both the Shippax Ferry Concept Award and the Shippax Interior Architecture Award.
images in this article