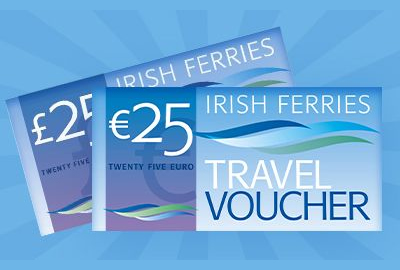 Give the Gift of Travel on New Irish Ferries Cruise-ferry!
13 dic 2017
A last-minute gift that doesn't rely on Christmas delivery dates can be ordered online in seconds at irishferries.com. The recipient could be one of the first to travel on Irish Ferries super new cruise-ferry, W.B. Yeats when it comes into service between the UK and Ireland in September next year!
Vouchers are available for any amount between £5 and £400.
The giver can enter a festive message that is included with the voucher.
A printable voucher may be sent directly to the recipient's inbox – or to the giver's email address.
The voucher is valid for one calendar year from the date of purchase.
The value of the voucher is assigned to the email address provided for the recipient, which will need to match the email address for the actual travel booking.
W.B. Yeats is being built in Germany at a cost of €144 million. The new ferry is expected to weigh in at 55,000 tonnes, making it the largest as well as the most luxurious ferry to operate on the Irish Sea.
Fabulous facilities on the new ship will include a Club Class lounge with direct passenger access from the car decks, à la carte and self-service restaurants, a cinema, a shopping mall, a choice of bars and lounges and an outside promenade deck. There will also be 441 cabins, including luxury suites with their own private balconies.
W.B. Yeats will sail between Holyhead and Dublin from mid-September 2018, delivering additional capacity for 1,885 passengers and crew and 1,200 cars per crossing, onto the busiest ferry route between the UK and Ireland.
Irish Ferries, 08717 300 400, www.irishferries.com