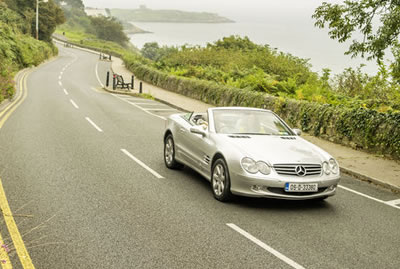 A Quick Hop to Ireland from £189 for Car and Four!
30 Mar 2017
Irish Ferries has introduced a new 'Next Day Return' fare that is fantastic value for people living within easy reach of Holyhead – which means The Wirral, Manchester and Liverpool as well as Chester and North Wales.
Ideal for shopping trips, arena concerts, sporting events, groups of friends or family visits, the fare is valid on ALL Irish Ferries sailings, including the fastest vessel on the Irish Sea, the Dublin Swift high-speed catamaran.
With a Next Day Return fare booked online, just £189 covers a car and up to four people travelling together between now and 30 June, and again between 1 September and 15 December – that's just £46 per person for a quick hop to Ireland!
The fare increases to £214 return in July and August, the equivalent of just £53.50 when four travel together.
There is a choice of up to six ferries a day from Holyhead, with the earliest departure at 0240hrs arriving at 0550hrs in time for breakfast! From Tuesday to Saturday there is a departure at 0800hrs, and the Dublin Swift service departs every day at 1150hrs.
To return – either the same day or (more likely) the next day – there is a choice of up to six sailings, the last being the 2055hrs Ulysses departure, which arrives back in Holyhead 20 minutes after midnight.
The Next Day Return fare is also valid on sailings between Pembroke and Rosslare. Choose 0245hrs or 1445hrs outbound, and return on the 0845hrs or 2045hrs sailing the next day.
Terms and Conditions apply. Book online at www.irishferries.com