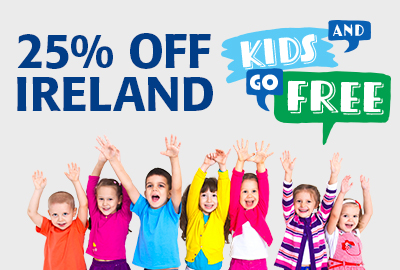 School's out: save 25% on Irish Ferries to Ireland AND Kids Go Free!
19 Jul 2019
Irish Ferries' flash sale is perfectly timed for the start of the summer holidays. Book in the next few days – by midnight on Wednesday 24 July – to save a massive 25% on the ferry fare AND take a car-full of kids for FREE!
The 25% discount applies to motorist fares on any sailing, on any ship, on any travel date up to 18 December 2019, including peak season family holidays in the coming weeks.
PLUS up to seven children in the same vehicle travel completely free, saving £30 per child on a return trip (child age is up to and including 15 years).
Ireland's beautiful coastline boasts no less than 88 Blue Flags, and with award-winning attractions and family-friendly accommodation the country is a superb destination.
Taking the car means maximum flexibility and – with these offers – maximum value: a family of two adults and four kids under 16 can make a return trip to Ireland before school re-starts for as little as £33.50 per person.

Irish Ferries has four ships operating between the UK and Ireland, including the high-speed Dublin Swift fastcraft and the majestic 50,000 tonne Ulysses.