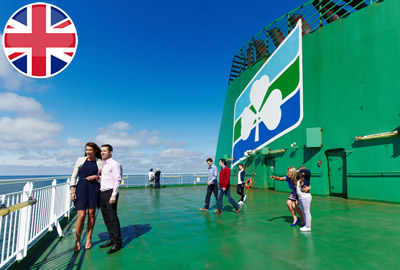 £189 for a Family Hop to Ireland at Half Term: Irish Ferries
03 Oct 2018
Take advantage of Irish Ferries' Next Day Return fare for a half term hop to Dublin, with a car and four people just £189 return!
This special 24-hour fare gives families time for an overnight in Dublin and sightseeing before returning to the UK the next day (accommodation is not included).
It's a great-value treat for families living within easy reach of Holyhead, which includes Manchester, The Wirral, Chester, and North Wales.
For example, board the 12-deck, 50,000 tonne Ulysses for its daily 14.10hrs sailing from Holyhead, enjoy the family-friendly facilities on-board including a cinema, restaurants and play areas, and dock in Dublin at 17.25hrs.
The next day offers a host of city sightseeing opportunities, from free attractions like the Natural History section within the National Museum, to fun stuff like a hop-on-hop-off bus tour or the Leprechaun museum, plus Georgian squares, literary trails and the River Liffey.
Catch the 20.55hrs Ulysses sailing from Dublin port – a 10-minute taxi ride from the heart of the city – enjoy a meal on board in 'Boylan's Brasserie' and dock in Holyhead at 00.20hrs for a late arrival home.
The flat rate of £189 works out at just £47.25 per person!
Terms and Conditions apply.
Book online
Call today 08717 300 400
Calls cost 13p plus network extras