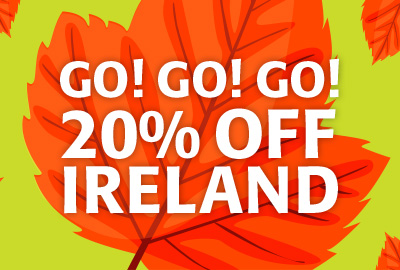 Flash Sale: save 20% on Irish Ferries to Ireland
12 Sep 2019
Irish Ferries' has launched a flash sale on self-drive travel to Ireland for the rest of the year, but bookings MUST be made by midnight on Monday 16 September.
The offer is on all ships and sailings between the UK and Ireland, including the magnificent new W.B. Yeats cruise ferry which arrives on the Holyhead-Dublin route on 1 October.
The huge ship cost €150 million when it was delivered last Christmas and has been sailing between Ireland and France all summer. Now UK-based travellers can enjoy its award-winning style and supreme comfort for the next few months.
Take advantage of the flash sale and two adults travelling by car can take a return trip to Ireland on the W.B. Yeats from just £94 per person in October.
At 194.80 metres long and weighing in at 51,388 tonnes it is the largest ship on the Irish Sea, with capacity for 1,750 passengers and their cars.
The innovative design of W.B. Yeats won three awards this year: the accolade of Ferry of the Year from the Annual Ferry Shipping Summit and both Ferry Concept and Interior Architecture titles in the Shippax Industry awards earlier this year.
The 20% discount applies to motorist fares on any sailing, on any ship, on any travel date up to 5 January 2020, including weekends, October half term and Christmas sailings.
08717 300 400, www.irishferries.com
calls cost 13p per minute plus network extras
Terms and Conditions apply.