A safer way to get away
Irish Ferries is offering you a safer way to get away, and we look forward to welcoming you onboard again. As travel restrictions in many countries are currently being relaxed, we have introduced additional measures onboard our ships to ensure that both passengers and crew can 'Travel Safe'

Enjoy our light bites or hearty hot dishes
From snacks and sandwiches to hot freshly made dishes we have something to satisfy every appetite

Let us help you pause and unwind
Sit back relax and enjoy your stay onboard Epsilon, the most recent addition to our fleet
Small onboard shop for your travel essentials
Cafe Lafayette - full bar service
Free Wifi onboard
*Please note there is no lift in the passenger areas

Sleep like a log
Enjoy the most relaxing start to your journey in our choice of cabins
Explore our cabins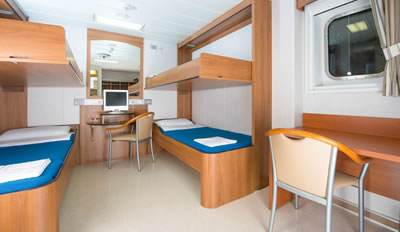 3 Star 4 Bed - with window
Situated above the water line on Deck 6
Air conditioned, en-suite with 2 beds on the lower level and 2 pull down bunks
Cabin is suitable for cots (pre-bookable as an Extra)
Colour TV
Fridge
There is no lift access from deck 5 (reception, restaurant & bar deck ) to cabin deck 6. Access is by stairs only ( 20 steps)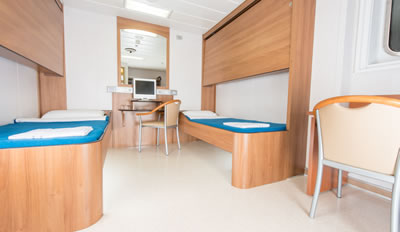 3 Star 2 Bed – with window
Situated above the water line on Deck 6
Air conditioned, en-suite with 2 beds on the lower level
Cabin is suitable for cots (pre-bookable as an Extra)
Colour TV
Fridge
There is no lift access from deck 5 (reception, restaurant & bar deck) to cabin deck 6. Access is by stairs only ( 20 steps)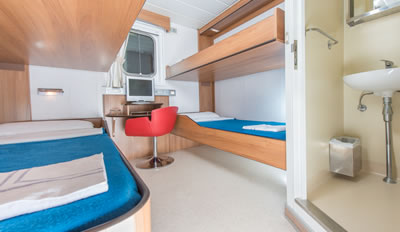 2 Star 4 Bed – with window
Situated above the water line on Deck 6
Air conditioned, en-suite with 2 beds on the lower level and 2 pull down bunks
Colour TV
There is no lift access from deck 5 (reception, restaurant & bar deck) to cabin deck 6. Access is by stairs only ( 20 steps)
2 Star 4 Bed – no window
Situated above the water line on Decks 6
Air conditioned, en-suite with 2 beds on the lower level and 2 pull down bunks
Colour TV
There is no lift access from deck 5 (reception, restaurant & bar deck) to cabin deck 6. Access is by stairs only ( 20 steps)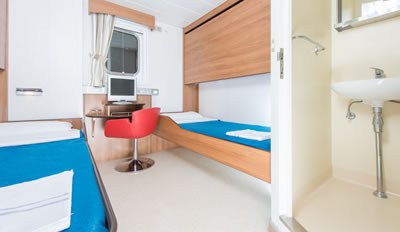 2 Star 2 Bed – with window
Situated above the water line on Deck 6
Air conditioned, en-suite with 2 beds on the lower level
Colour TV
There is no lift access from deck 5 (reception, restaurant & bar deck ) to cabin deck 6. Access is by stairs only ( 20 steps)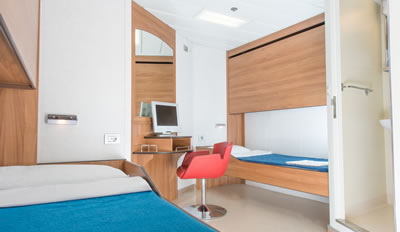 2 Star 2 Bed – no window
Situated above the water line on Deck 6
Air conditioned, en-suite with 2 beds on the lower level
Colour TV
There is no lift access from deck 5 (reception, restaurant, & bar deck) to cabin deck 6. Access is by stairs only ( 20 steps)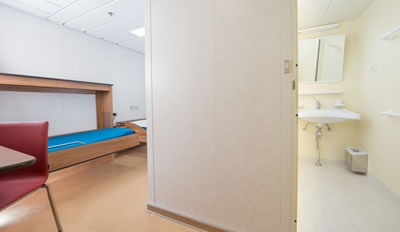 Wheelchair Accessible Cabin
Situated above the water line on Deck 5 ( near reception)
Air conditioned with 2 beds on the lower level
One of the beds can be recessed to provide more floor space
Retractable table to give more floor space
Specially adapted en-suite facilities
Cabin door is 87cm wide for ease of wheelchair access and can be hooked into an open position.
These specially adapted cabins are the only cabins on board suitable for full time wheelchair users.
These cabins are very close to the dedicated wheelchair user vehicle parking spaces on board.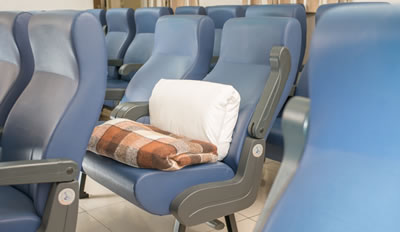 Reclining seat lounge – with windows
Situated above the water line on Deck 6
Air conditioned
Ladies and gents toilets nearby
Blankets and pillows available at no extra charge
Large colour TV on a raised plinth
There is no lift access from deck 5 (reception, restaurant, & bar deck) to cabin deck 6. Access is by stairs only ( 20 steps)
GET EXCLUSIVE DEALS
The best offers straight to your inbox. Subscribe right here. Right now.