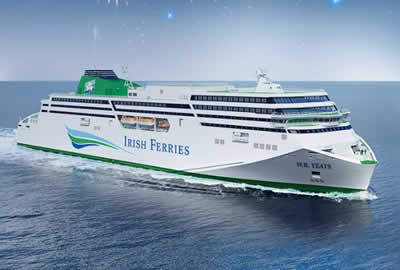 Irish Ferries Launches 2018 Schedule, incorporating its amazing new Cruise Ferry W.B. Yeats
01 Nov 2017
Irish Ferries has unveiled its 2018 sailing schedule, incorporating the capacity offered by its €144 million cruise ferry W.B. Yeats.
The new ferry – currently being built in Germany – is expected to weigh in at 55,000 tonnes, making it the largest as well as the most luxurious ferry to operate on the Irish Sea.
W.B. Yeats will sail between Holyhead and Dublin from mid-September 2018, delivering additional capacity for 1,885 passengers and crew and 1,200 cars per crossing, onto the busiest ferry route between the UK and Ireland.
Fabulous facilities on the new ship will include a Club Class lounge with direct passenger access from the car decks, à la carte and self-service restaurants, a cinema, a shopping mall, a choice of bars and lounges and an outside promenade deck. There will also be 441 cabins, including luxury suites with their own private balconies.
Before going into service on the Holyhead to Dublin route, W.B. Yeats will add much-needed high season capacity between Ireland and France.
After her maiden voyage on 6 July 2018, the new ship will offer Irish holidaymakers a cruise style travel experience, sailing between Dublin and Cherbourg throughout the summer. When coupled with the existing vessel the Oscar Wilde, which currently serves the route, it will double the number of sailings between the two countries, with planned daily departures in alternate directions.
In another schedule change, the high-speed Dublin Swift catamaran, which crosses between Holyhead and Dublin in as little as one hour and 49 minutes, will provide a summer-only service in 2018.
For full schedule details visit the 'Routes and Times' section of www.irishferries.com