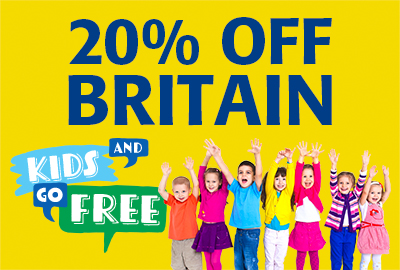 20% off sale and kids go FREE to the UK with Irish Ferries
14 Jun 2019
Time to book that last-minute summer family getaway!
While the weather doesn't show any sign of picking up in Ireland, summer is in full swing and the school holidays are just around the corner.
With that in mind, Irish Ferries has just announced an amazing late deal offer on travel to the UK.
The offer, available on Irish sea travel, sees an amazing 20% off motorist fares AND kids travelling for free.
With theme parks for all ages, beautiful countryside towns, national parks and beaches, there's plenty of action-packed fun for families in the UK. There's never been a better time to book a family getaway this summer!
And remember, it's all kids go free! So, if there's a friend, a classmate or a cousin that wants to tag along on the UK adventure, they will also travel for free.
The huge 20% discount is applicable on motorist fares, which means you'll have the freedom of travelling with the car, with everything you need for your trip.
But get booking quickly! The offer is only available on bookings made between Thursday 13th June until Wednesday the 19th of June. It is applicable for travel between the 15th of June and the 18th of December inclusive.
Terms and conditions apply. For more information or to book, visit www.irishferries.com